Let yourself be charmed by the enchanting landscapes of Ardèche during your next hike
Ardèche is a French region teeming with enchanting natural landscapes, perfect for hiking enthusiasts. From majestic mountains to crystal-clear rivers and lush green forests, each trail provides a unique spectacle and an unforgettable experience. Whether you're a beginner or an experienced hiker, Ardèche will offer you trails tailored to your desires and abilities.
The must-visit hikes in our region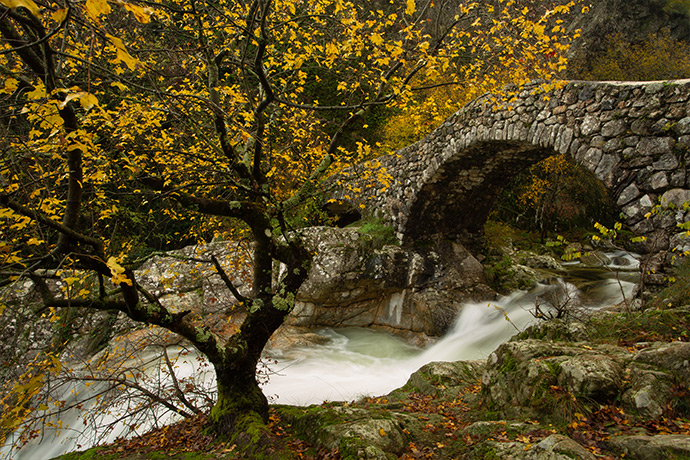 A journey etched in stone
Discover Europe's most beautiful basaltic flows in the heart of Jaujac. Let yourself be charmed by the spectacular viewpoints and the charming cobbled streets of the town. This loop starts in the center of the historic village of Jaujac and will take you from the impressive sites of the basaltic flows to the exploration of several panoramic viewpoints.
A breathtaking stroll
Discover the 'King's Ladder' on a short but stunning walk starting from the center of Thueyts. This must-see site in the Monts d'Ardèche will amaze you with various viewpoints along the route. The local geology has inspired the toponymy of these breathtaking places. The basaltic organs are particularly remarkable and imposing throughout the hike. The viewpoints of 'Gueule d'Enfer' and 'Stade' offer spectacular views of the Devil's Bridge and the Ardèche River. The 'Ladder of the King,' a staircase carved directly into the basalt flow, is a testament to monumental craftsmanship.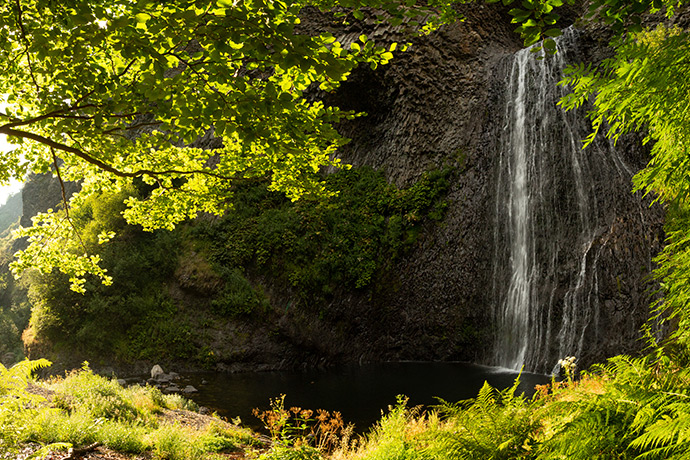 Embark on an invigorating and volcanic round-trip hike from the village of Péreyres to discover the majestic Ray-Pic waterfall, an essential destination in Ardèche. Following the GRP of the Haute Cévennes Ardèche, you'll be awed by the beauty of the waterfall plunging from a height of 60 meters. The Ray-Pic waterfall is also recognized as an exceptional volcanic site, classified as a UNESCO Geosite, thanks to its 20-kilometer basaltic flow, one of the longest in Europe. Along a small path, you can access different wooden terraces overlooking the waterfall, offering breathtaking views.
Hiking in the Monts d'Ardèche
Explore the most beautiful hikes in Ardèche with the mobile app 'Rando Monts d'Ardèche.' This app, selected by the Regional Natural Park of Monts d'Ardèche, allows you to easily access all the information on the terrain, whether you're connected to the internet or not. Discover exceptional hiking routes and experience unforgettable adventures in the preserved nature of Ardèche with 'Rando Parc des Monts d'Ardèche.' Available on: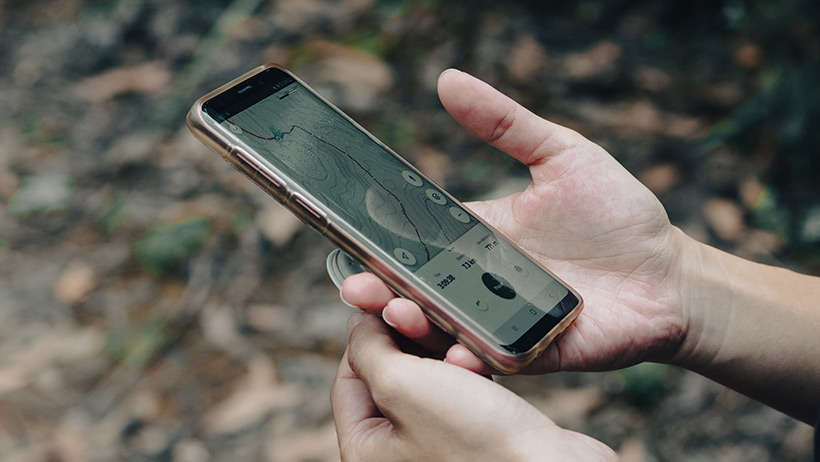 How to prepare properly for a hike in Ardèche?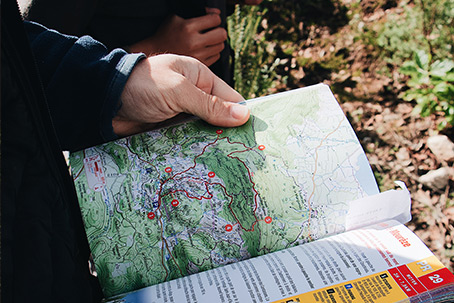 Before heading out on hikes, research the trail you'll be taking. Check the distances, elevations, weather conditions, and any technical difficulties. Also, make sure you have enough water, food, and suitable clothing and footwear for your hike.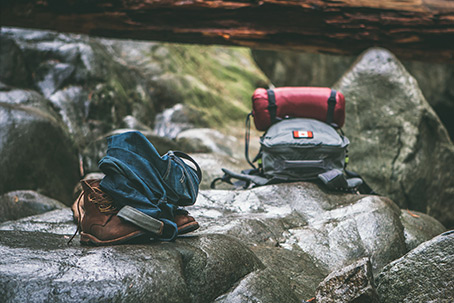 Be prepared
Prior to embarking on your hike, ensure you have the necessary equipment to handle potential challenges. Bring a first-aid kit, a flashlight, a charged mobile phone, a compass or GPS, and always inform someone of your itinerary and expected departure and arrival times.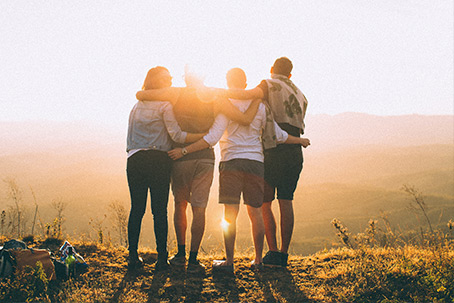 Respect others
While hiking, it's important to respect fellow hikers. Be courteous, yield the trail to those ascending, avoid making excessive noise, and don't monopolize viewpoints. Also, be mindful of respecting the tranquility of the villages you pass through.
Preserve nature
While hiking, it's crucial to respect the environment you're in. By adopting a responsible attitude, you contribute to preserving the beauty of the landscapes and the local biodiversity. Remember not to leave any litter, avoid disturbing animals and plants, and follow safety guidelines.
Au fil des sentiers
Hiking in Ardèche is a true invitation to escape. Let yourself be enchanted by the enchanting landscapes of this region, where rugged terrain, tumultuous rivers, and mysterious forests blend together. With each step, you will discover unsuspected natural treasures, breathtaking panoramas, and trails that lead you to magical places. But hiking in Ardèche is also an opportunity to recharge, reconnect with nature, and take the time to live. Walk at your own pace, open your eyes wide, listen to the birdsong, inhale the scents of the local flora, and be carried away by the beauty of this unique region.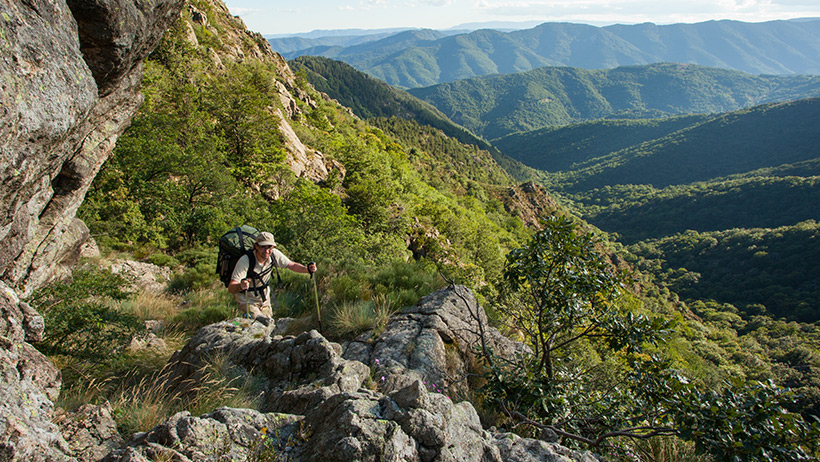 A few steps for a great change of scenery
In Ardèche, hiking is more than just a physical activity; it's an immersive experience that allows you to discover preserved nature and a culture rich in traditions. With its rugged terrain and tumultuous rivers, Ardèche offers a variety of exceptional landscapes, making it an ideal playground for hiking enthusiasts. But what makes this region so unique is its ability to transport you to another time, through preserved medieval villages, imposing castles, and impressive prehistoric sites. Hiking in Ardèche is a true adventure that will leave you with unforgettable memories.