Ardèche is a playground for extraordinary adventures: hiking, cycling, swimming, running, climbing, canoeing, canyoning, treetop adventure parks, and even fishing…
Indeed, our department is teeming with diverse experiences for those who crave the outdoors! Whether you explore its landscapes on foot, by bike, in the air, in its rivers, or on leisurely strolls, Ardèche will leave you with a desire to return. Here, you'll find a compilation of the best activities not to be missed during your visit.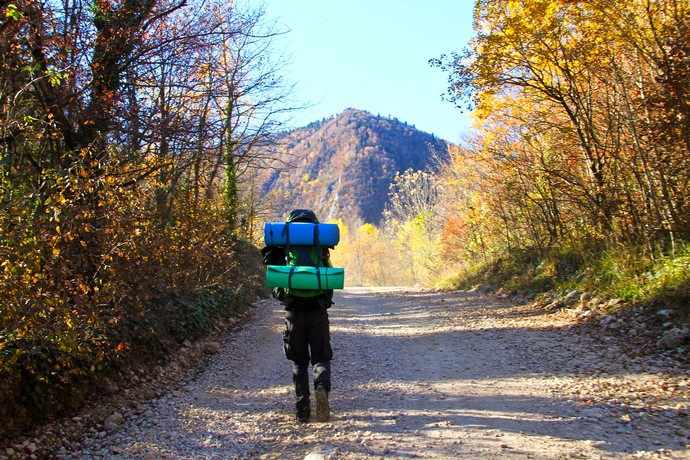 Exploring the footsteps of volcanoes…
For all the wilderness enthusiasts, eager to explore the breathtaking landscapes of the ancient volcanoes and mountains of Ardèche. Whether you prefer leisurely strolls or challenging hikes, solo discovery or accompanied by your tribe, you'll find here our selection of hiking trails in Ardèche that you shouldn't miss!
Cycling / Mountain Biking
Alongside our animal friends
Embark on hikes or bivouac adventures with a donkey in stunning landscapes, go on an equestrian ride, or try a themed half-day workshop. Meet familiar yet astonishing animals at a family-friendly wildlife park, on a farm, or by delving into beekeeping! Discover the approach that suits you best to create unforgettable moments with our four-legged friends.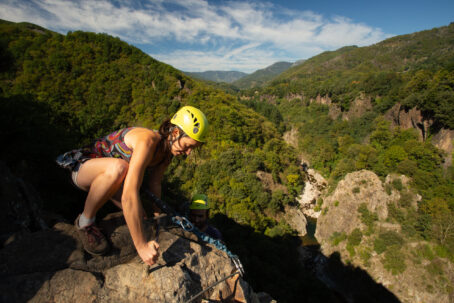 As the first and only Via Ferrata in Ardèche, it will allow you to defy gravity and experience new thrills, all while being harnessed above the Ardèche River. Over a two-hour course, you'll make your way along the rocky cliffs, traverse the suspension bridge, and finish with a zip line, from one side of the river to the other… Guaranteed thrills and sensational panoramas!
Canoeing/Kayaking
You shiver at the thought of hearing the river's sound, of admiring unique views of the cliffs or the Cévennes' wildlife and flora? Whether you're gentle with the paddle or eager to descend the Gorges of the Ardèche, the Chassezac, or the Eyrieux Valley on rapids, we'll tell you everything about how to make your perfect canoeing trip a success.
Guilty Pleasure
Dreaming of serenity and vast landscapes? Settle by the riverside, near lakes, or downstream from mountain streams for an unforgettable fishing adventure. Whether it's leisurely or a passionate pursuit, the rich Ardèche fauna will delight many: authentic brown trouts, minnows, bullheads, crayfish, and barbels… find here the best advice for combining fishing and conservation.
To soar over breathtaking landscapes and experience a moment as a bird! From discovery flights to prestige flights, from children's flights to thrilling flights, whether it's above the Massif du Tanargue, Col de Meyrand, or in Southern Ardèche, our passionate and experienced instructors will be there to guide you during this special moment…